Tired of using traditional methods to carry stuff to your job site or garden? This article gives you an insight of the top most rated 2 wheel wheelbarrows that area of high quality and great design to suit your needs. These products come with great features making them affordable for you to purchase it.
10 Best 2 Wheel Wheelbarrows
Kinds of wheelbarrows in the market
We have three types of wheelbarrows:-
i). Hybrid Wheelbarrows
They come in as a mix of classic design so that they are able to suite use in the modern times. They come with up to 4 wheels so that they are able to carry heavier loads.
ii). Hill-Use Wheelbarrows
This is a product that has the ability to take care of you if you live on the hills. It is well lubricated with ball bearings in the wheels. The handles have been made with grips so that you can be able to pull it up on the hills.
iii). Electric Wheelbarrows
This is a motorized wheelbarrow with the best modern design. They are a bit expensive but more comfortable to use.
What you need to know before buying a wheelbarrow?
You need to know the weight limit that your machine is going to carry.
Do your research on your load tub material. The sturdier it will be, it means that he more heavier loads it is able to carry.
Ensure you know the cargo volume of your item so that you are able to calculate how much you are able to carry on one goes.
The tires that it has. Most people have a choice of 2wheel wheelbarrow because of its stability.
Watch out for pegged rests and the best ones are the ones that are made of stainless steel.
1. Worx aerocraft multifunction 2-wheeled yard cart.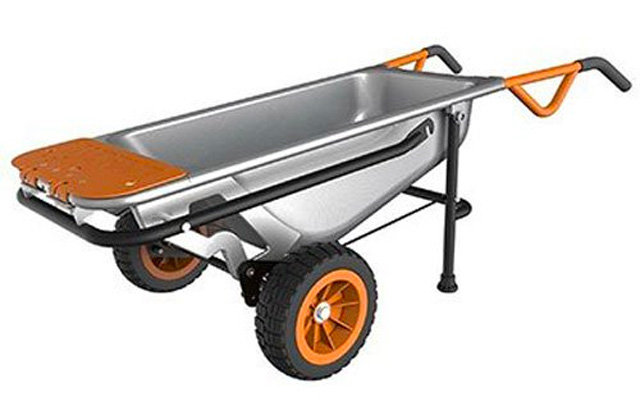 It is a multipurpose product with the adaptability to convert into a dolly and perform several other use. . Features are that it has flat free tires, oversized, fold out extension arms and durable all steel construction. The extension arms are used with various innovative accessories to carry flower pots mulch bags straw bales and other awkward, large items. Carries weight capacity of up to 300lb and a tub capacity of approximately 3 cubic feet making it ideal for moving loads of woods, bricks, rocks dirt or anything else you need to haul.
Pros
Easy to move items.
Very durable.
Very comfortable.
Cons
Carries weight up to 300lb only.
2. Best choice products dual wheel home wheelbarrow yard garden cart.
This is a green colored device that is constructed from powder coated steel, polyurethane and rubber for a rust proof performance. It's a lightweight and only needs 8 bolts to assemble and secure it together. Carries weight load capacity of up to 300lbs. maneuvering the thick padded loop handles makes pushing the gadget comfortable, simple and easy to lift. The 13 inch rubber wheels are sturdy and pneumatic, which allow you to steer it in various types of terrain.
Pros
Durable design and material too.
Very easy and comfortable to lift and move too.
Cons
Limited weight load capacity.
3. Marathon dual wheel residential yard rover wheelbarrow and yard cart.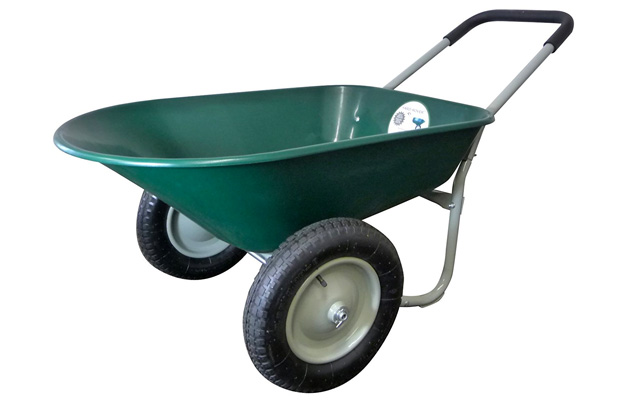 This brand of lightweight, ergonomic design makes your yard work a breeze with lower lifting effort, easier balancing and maneuverability. It is perfect for common projects around the house for users of all ages and of different stages. Can haul materials such as logs, top soil, yard waste, debris, logs, rocks and more. Makes the perfect outdoor gift for a gardener.
Pros
Good looking.
Very strong and durable.
Cons
Cannot carry beyond its weight load capacity.
4. The AMES companies inch true temper foot wheelbarrow.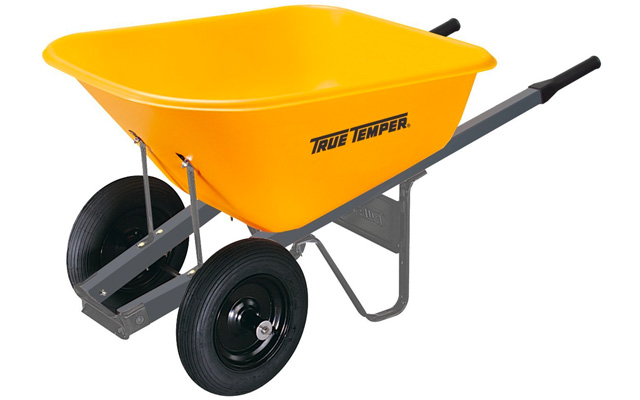 The product is ergonomically designed to provide extra stability with dual wheels making it beneficial to you to actively work in your garden or yard. Its Polly tray is corrosion and rust resistant giving you an opportunity to enjoy great services for a long period of time. The handles are made of strong steel and feature comfort end grips for you to have a secured grip while wheeling. It gives you a chance to carry a range of load sizes from large to small hence suiting home clearing activities.
Pros
Non corrosive material
Lightweight design.
Cons
Weight load capacity cannot exceed the set one.
5. Lifetime 65034 two wheel wheelbarrow.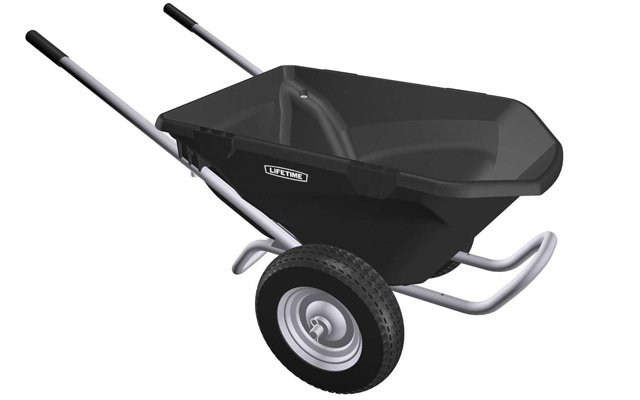 It has a 6.5 cubic feet tub made from 100% post-consumer recycled material and has a load capacity of 550 pounds. Its ingenious design enables you to lighten your toughest loads. Provide better load stability by the aid of the extra wide wheel base and low center of gravity. Has a tapered front of the tub making dumping easier.
Pros
Lightweight material.
Very stable.
Cons
Limited weight load capacity.
6. Simplay 3 easy haul wheelbarrow.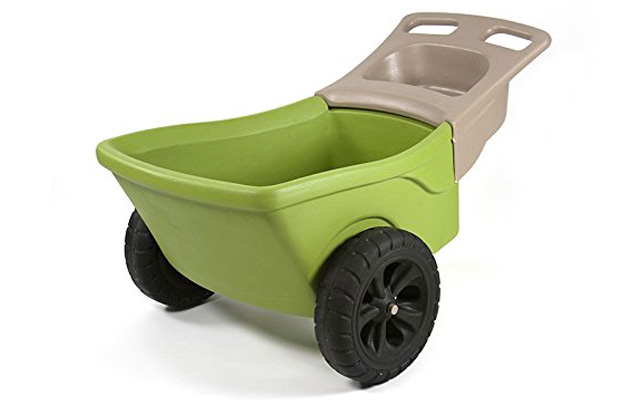 This is a two wheeled heavy duty device made of plastic making it lightweight and easy to maneuver garden. It is extra deep with a flat floor to keep contends level during transport to your desired location of dumping or need. Has heavy duty double wall of plastic construction that does not rust, dent, and break and easily cleaned. Features strong wheels making them durable and easy to move over any terrain.
Pros
Lightweight design
Easy to move.
7. Edgeguard technology.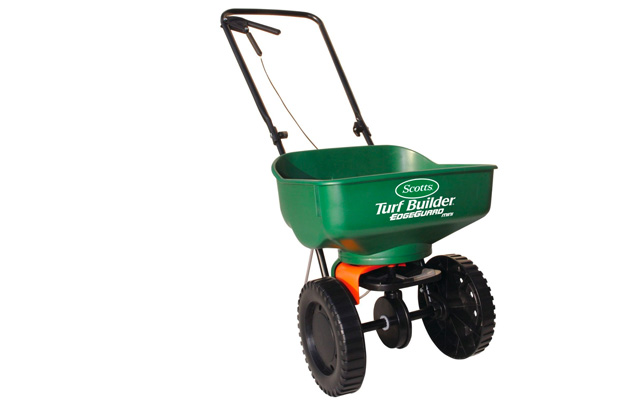 Features scots exclusive edgeguard technology designing it to ensure it gives you excellent and amazing results when used. Does not require to be assembly led and pre-calibrated.
Pros
Comes fully assemble.
Easy to use and move products.
Cons
Overs a small carrying surface.
8. PAW electric battery power wheelbarrow.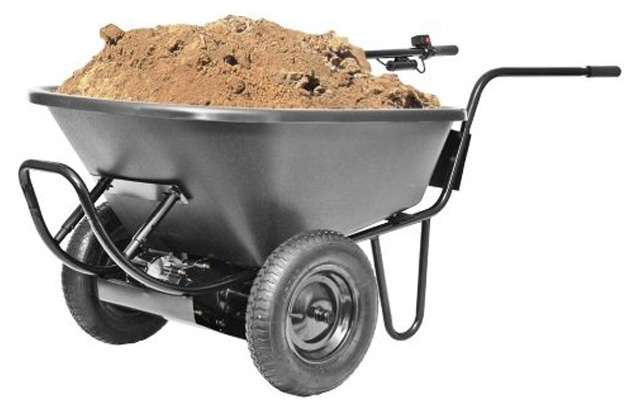 Great feature of powerful 24 volt battery operating system which is rechargeable aiding you to haul all kinds of items including sand, woods, shrubs, rocks and much more. Its load weight capacity goes up to 300lb making it perfect assistant to help you with heavy carrying jobs.
Pros
Requires less effort to operate.
Cons
Effective working must be power by the powered battery.
9. Smart carts water 20 plus.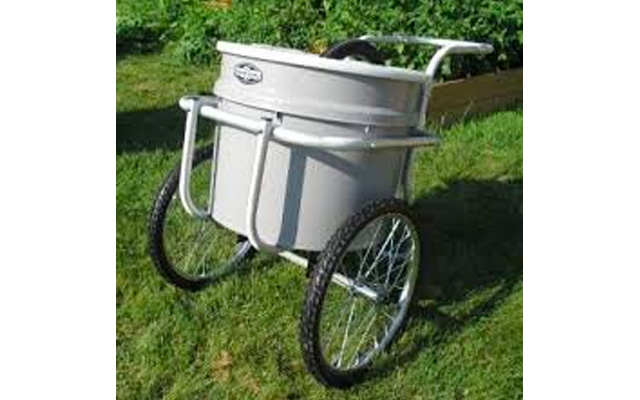 It is a perfect answer for all of your watering need. Features a flexible crush resistant and virtually kink proof hose to easily water outreach plants and areas. The hose also features quickly connect flow tip[s to easily switch from a heavy flow pattern to a gentle shower pattern.
Pros
Simple to lift.
Very stable design.
Cons
Specifically made to carry water.
10. High country plastics.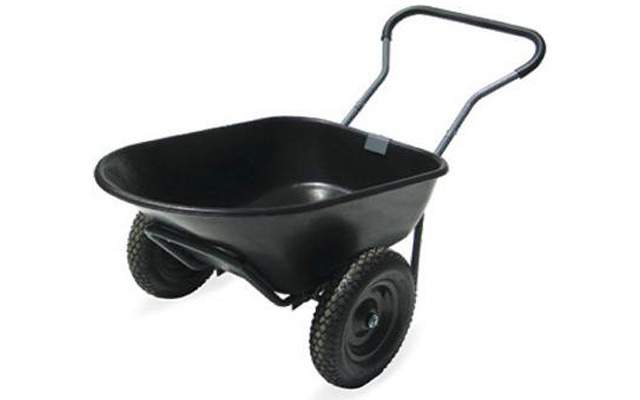 The frame is steel powder coated black making it last from long without corroding. Comes with a poly which features a non-removable tub securely held together by bolts into the frame. Its handle is foam covered for comfort in pushing. Very easy to push and maneuver in tight spaces.
Pros
Light to move.
Very comfortable and stable.
Carry top soil, rocks, flowers, water and many item in and out of your yard or garden with traditional exhaustive methods, use either of the above mentioned products that will give you great service of their class. They last long and very coalloymfortable hence worthy for you to use your cash to purchase and experience non-failing services.