The classic, cool and very comfortable Adirondack chairs are pieces of furniture that you can add to general décor of your garden, patio or landscape. These chairs are designed to give such a comfortable feel and have been an outdoor favorite for many years. The chairs are made from different products such as recycled plastic, resin and wood. The wooded Adirondack chairs have been into existence for a very long time, and can either be stained or even just left unfinished and the weather will turn them into their natural gray color. These chairs definitely make those long hours in the yard very comfortable relaxing.
There are many types of these Adirondack chairs and this makes the process of selecting which is the best a very difficult task especially if you're a first-time buyer. However, to remove such inconveniences and difficulties, I have compiled a list of the best 10 Adirondack chairs to enable you make the best selection. The list has some of the best reviews which will allow you to make a wise and informed decision of which chair to buy in case you're in need of one.
Listed of The 10 Best Adirondack Chairs:
1. The Lifetime 60064 Adirondack Chair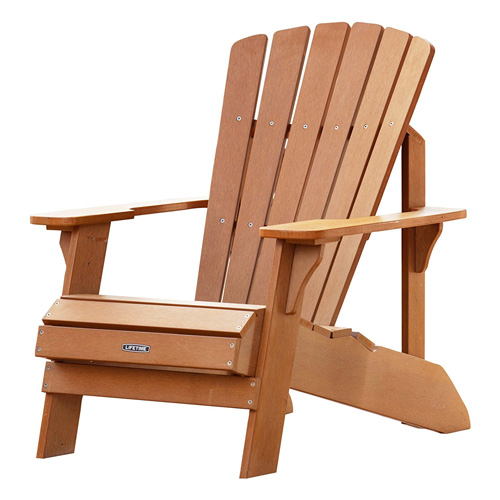 This is probably the best Adirondack wooden chair on the market today. This chair has a UV-protection thus very safe for your outdoor relaxation. The chair is also resistant to cracking, chipping and peeling. Once this chair is finished, it becomes resistant to staining and which enables it to maintain its original look. The pieces of these wooden chairs are also secured neatly together with the rustproof hardware. Its arms are very wide to give it the ultimate comfort needed. The chair is also very smooth and has a water proof finish which makes it easier for cleaning. It is also very easy and quick to assemble. This chair has a dimension of 43 x 7.8 x 22.5 inches
2. The Folding Cedar Adirondack chair with Ottoman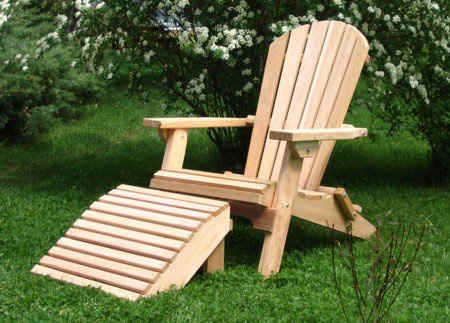 This is another comfortable outdoor wooden chair which has an addition of ottoman set that is a perfect addition to your poolside deck or stand. This chair is made from natural western red cedar and it easily folds for easier storage. Its pull out ottoman which is attached to the chair is meant to increase the comfort of the user. This chair has an ergonomic design and a big space between arms which enables it to accommodate all body types whether big or small. This chair usually sits well on its own and doesn't need support from another object. However, you can add to it your own ornamental outdoor cushion as this will help add a little sparkle to your patio motif. Having this chair and the ottoman set close to some low patio table as you enjoy your afternoon beverage in the sun is such an interesting thing.
3. The Best Choice Products SKY2253 Adirondack Wood Chair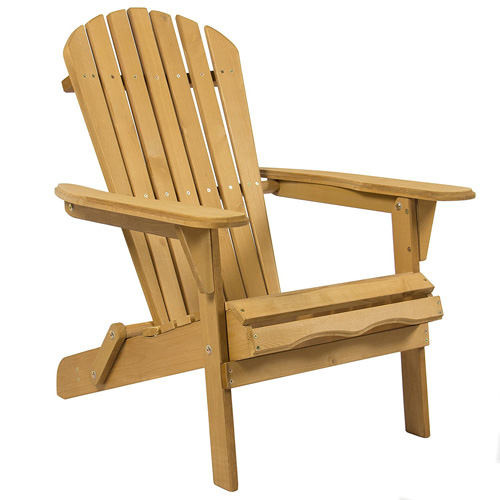 This is one of the best-selling wooden models Adirondack chairs today. It is very lightweight but at the same time has very durable fir wood construction. Its lightweight nature will make it easier to handle and carry it around your compound. The stylish natural finish of this product makes it easy to blend with the yard. The seat and its backrest are secured in closely spaced slats which give very good support and comfort too. These chairs are designed to be folded easily so that you can store and transport them without much difficulty. These chairs also need very little assembly time and have a dimension of 30.5 x 28 x 35 inches.
4. The Patio Sense Coconino Wicker Chair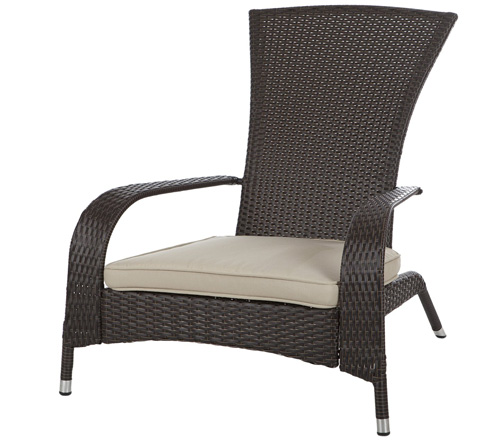 This Adirondack chair is a very durable piece of furniture which has been built to last for a very long time. These chairs feature a wicker construction that gives them the best weatherproofing qualities. This wicker construction also makes it lightweight enough to handle and carry it around easily. The chair gives the best convenience of minimal maintenance issues. This chair is also reinforced with a steel frame that is powder-coated to give great support. It has a cushion to give you more comfort and relaxation. It has a dimension of 35 x 34 x 34.5 inches
5. The Best Choice Products SKY2254 Adirondack Wood Chair with Pull-Out Ottoman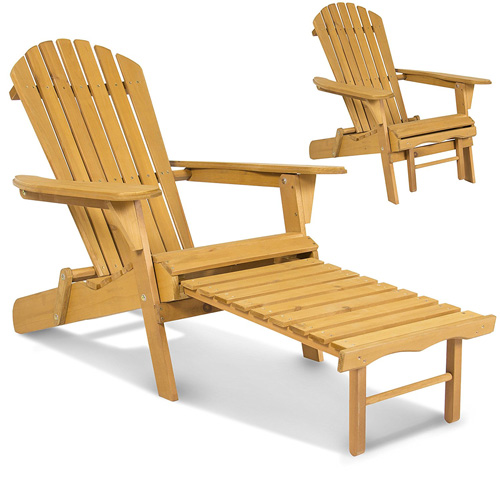 This wooden chair is made from a durable wood which can support your weight and is also very resistant to withering. It features a built-in ottoman pull-out which is retractable and which has the core function of providing support so that you don't get tired easily. This Adirondack chair is stylishly designed and has an adjustable backrest which provides you with the comfort that you desire. The natural stylish design is one of the features of this beautiful chair, and definitely which will add décor to your yard. This chair is also lightweight hence easy to handle and carry around at your convenience. The chair also requires minimal assembly time.
6. The Mini Decorative Adirondack Wood Chairs (Set of 2)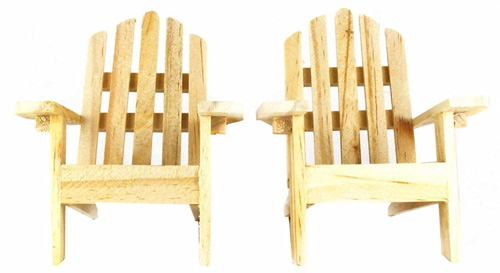 These set of chair is the most ideal for couples as they would definitely love them. The chairs come in sets of 2. They are made from wood and usually found in unfinished style. These chairs have a low-design, something that makes them to be very stable and also easier to get in and out. The wood used to make this chair is first treated so as to prevent any insect attacks and also from other harsh outdoor elements. These chairs are very convenient since they have a wide seat, and which makes them very accommodative to any type of body, even for large users.
7. The Richmond Adirondack Chair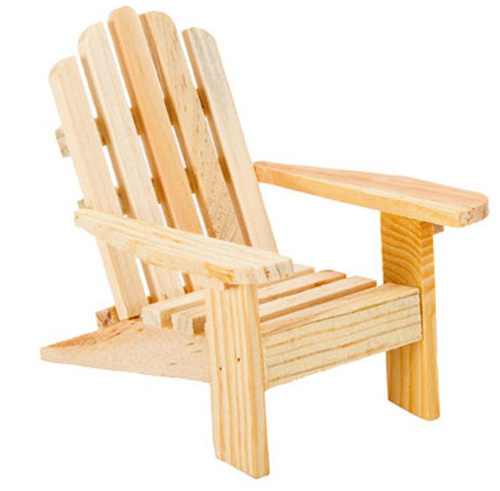 This is another set of Adirondack chair that allows you to relax and enjoy the surrounding outdoor scenery. This set is most ideal for couples as it gives you that chance of enjoying your outdoor surrounding together with your spouse. It comes with a free side table good enough for handling your beverage as you continue enjoying the beauty of nature. The chairs are made of very durable construction that consists of red shorea wood. The wood gives a natural resistance to rotting and insect attacks. These chairs are very simple and easy to assemble. The chairs have a dimension of 31.5 x 36 x 36 inches and the table has a dimension of 19.75 x 19.25 x 15 inches.
8. The Merry Garden Adirondack Chair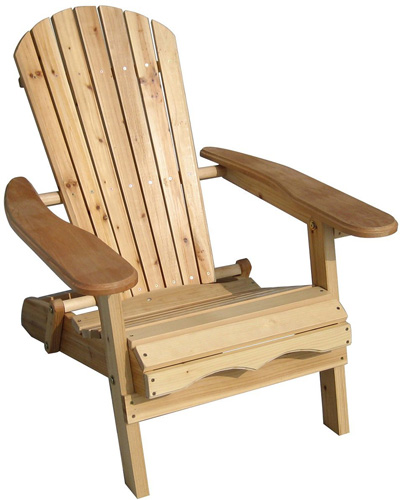 This chair has a light weight construction which makes it easier to handle and carry it around your compound. It only weighs around 19 pounds. This chair is made from fir wood construction and has a natural finish. It does not stain, warp or rot because the wood used to construct is very strong. This chair is made to last for very long time and is resistant to many outdoor bad elements. This chair can easily be folded flat and thus very convenient for storage and for transportation. The chair has very smooth edges and also requires very minimal assembly time. The ergonomic structure of this chair gives it maximum relaxation and comfort. The chair measures 31.7 x 27.7 x 34.7 inches.
9. The Fir /Adjustable Cedar Adirondack Chair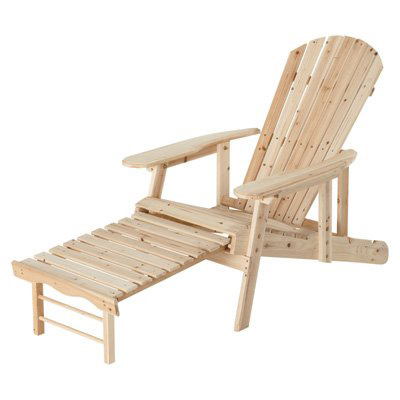 The chair is one of the best wooden Adirondack chair selling today and will greatly uplift your lounge experience to a whole new level. This chair comes with a wooden construction that is made of cedar. It is also the perfect blend of the Adirondack style and the recliner comfort. This chair is also resistant to harsh weather and other bad outdoor elements. Its reclining mechanisms provide you with a chance of sitting back and just relaxing. It has also an extended footrest to provide you with the best comfort that you desire. The chairs dimension is of 44.12 x 30.33 x 36.67 inches.
10. The Margaritaville Adirondack Chair (by Rio Brands)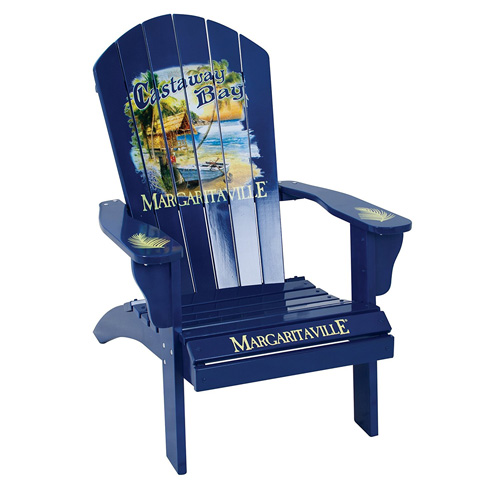 The Margaritaville is a wooden Adirondack chair which is made from the Poplar wood. The seat and backrest of this chair is adorned with a Castaway Bay logo and this makes it to look more lovely and stylish. The finished chair has 7- layers of paint to give adequate protection from harsh weather and other conditions. This chair is also waterproof and this prevents its wood from rotting, warping or staining. This chair is handcrafted, and this guarantees it to have a superior quality and good performance when compared to other Adirondack chairs. It has a dimension of 26 x 20.2 x 40 inches and can also support up to300 pounds.
These are some of the best Adirondack chairs which will give you the ultimate outdoor and indoor relaxation that you may need. They give the best comfort and can easily be incorporated into any living environment. These chairs have been around from the early 19th century. They come in very unique style and fashion designs which make them a wonderful addition to our outdoor experience. And especially if you love spending a lot of your time indoors or outdoors, then ideally you will need to buy an Adirondack chair of high quality, and you can simply pick one from the above list.