(Last Updated On: October 3, 2018)
Do you feel like your child already has more than enough toys and games? Do you wish they would spend more time outdoors? Dirt bikes for kids can open up your child's world to exploration and adventure. These bikes encourage your children to play outdoors and give hours of entertainment for the kids and for you as you watch them enjoy the bike. A lot of bikes can up as fast as 15 MPH and run on batteries for up to 40 minutes. Your child will have fun zipping through dirt, grass, mud or even a motocross course they constructed themselves when they have an electric dirt bike for kids.
Below you will find ten of the top dirt bikes for kids so you can see what is available and what would most suit your child. We are sure that no matter which one you choose, your child will have hours of fun!
Listed of The Best Electric Dirt Bike for Kids:
Review of The Best Electric Dirt Bike for Kids
10. Electric Junior E-Bike by Jetson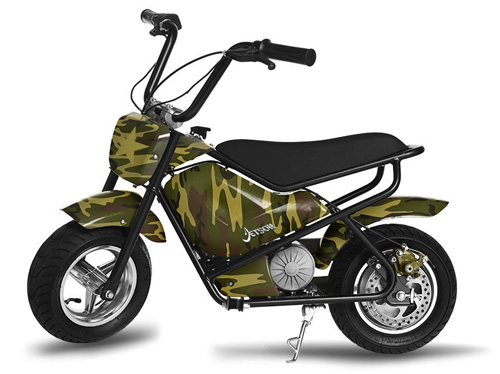 Your child can cruise the neighborhood for hours with this bike from Jetson. Just charge the batter, plug it in and ride. This state of the art electric bike is both safe and simple, plus you can feel great knowing that with this bike is environmentally friendly. It includes a 24V battery which is rechargeable. It has two adjustable speeds so you can choose how fast your child is able to go – either 6MPH or 10MPH.Buy now from Amazon
9. 24V Electric Kids Dirt Bike by MotoTec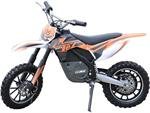 This electric dirt bike will keep your child asking to go outside every day, meaning they'll be soaking up all that good sunshine and fresh air. The motor is a 24V 500 Watt, and the bike comes with two 12V 12ah batteries so you can charge them up and your kid can have hours of fun, as simple as that!Buy now from Amazon
8. MX400 Dirt Rocket Bike by Razor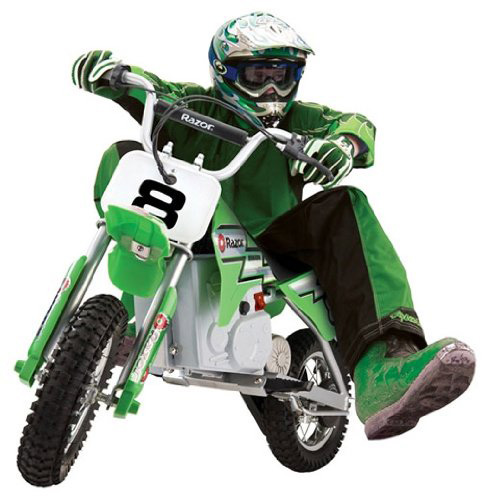 This bike has speeds up to 14MPH and is created for dirt with its big 12 inch pneumatic knobby tires, giving you the most power transfer. Your child will be pleased with the power this bike has, while you'll be happy that the single speed, chain driven motor is extremely quiet. The scaled down design of this dirt bike holds riders up to 140LBs and is recommended for ages 13 and up.Buy now from Amazon
7. MX500 Dirt Rocket Electric Bike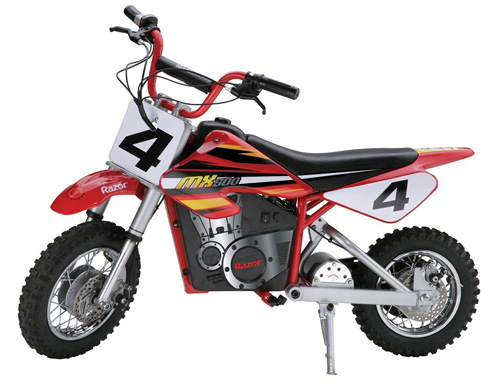 This high performance electric bike can hold riders up to 175 pounds and is made for dirt with its large 14 inch and 16 inch tires for the most transfer of power. The riser handlebars and dual suspension gives a comfortable and smooth ride and the bike can travel up to ten miles on one charge. With speeds up to seventeen MPH, this bike will give your child hours of fun outside, and won't annoy the neighborhood with a noisy engine.Buy now from Amazon
6. MX650 Dirt Rocket by Razor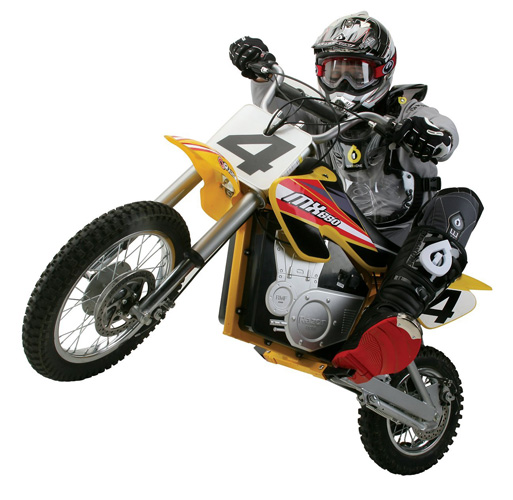 This bike will give your child an authentic off-road experience. It can travel 17 MPH or less and can hold 220lbs or less. It has an authentic motocross front inverted suspension fork and adjustable suspension in the rear. The spoke wheels which are motorcycle-style have big knobby tires, 14 inches in the rear, 16 inches in the front and inner tubes. The plastic fairings and fenders are made of shatter proof plastic and this bike is easy to put together.Buy now from Amazon
5. MX350 Dirt Rocket Electric Bike by Razor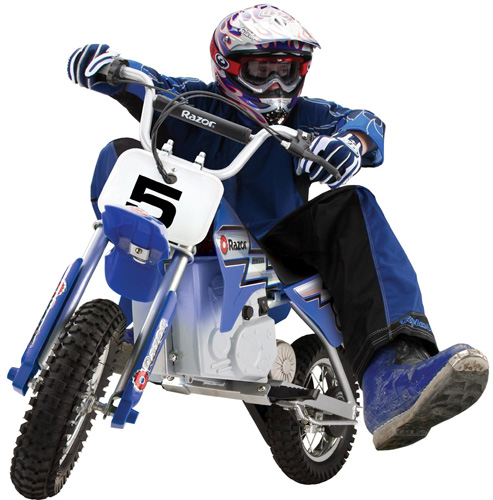 An electric motocross bike in miniature, this Dirt Rocket is made to carry a rider 150 lbs. or less. It is made for dirt with its large, 10 inch pneumatic knobby tires that give you the maximum power transfer. Your child will be able to travel more than ten miles on just one charge with speeds up to 12 MPH. This chain driven, variable speed motor has a very power but quiet operation.Buy now from Amazon
4. Dune Buggy by Razor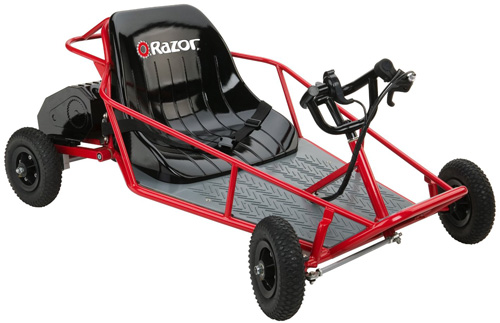 This Dune Buggy has the best in electric powered off-road capabilities. It has power speeds of up to 9MPH and can carry up to 120lbs. Its reduction drive is especially made for lower torque climbing and off-roading. The 8 inch knobby tires and the large bucket seat give your child a comfortable and smooth ride. It is recommended for ages 8 and up.Buy now from Amazon
3. Pocket Mod Miniature Euro Electric Scooter by Razor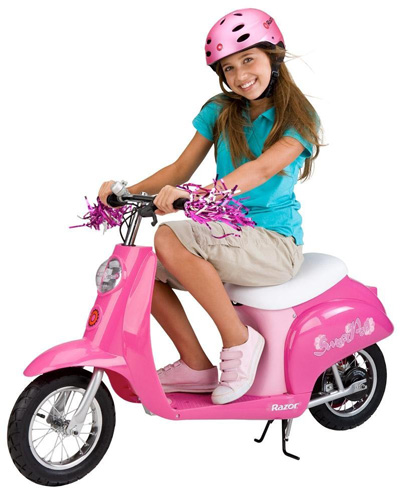 Your child will cruise the streets in style in this electric scooter. It features a chain-driven, high-performance electric motor with a body that is vintage-inspired. It can get up to 15 MPH and has a pair of 12 inch pneumatic tires with a rear suspensions system, giving a comfortable ride. It also includes variable-speed acceleration, retractable kickstand, built-in battery and a padded seat.Buy now from Amazon
2. SX500 McGrath Dirt Rocket by Razor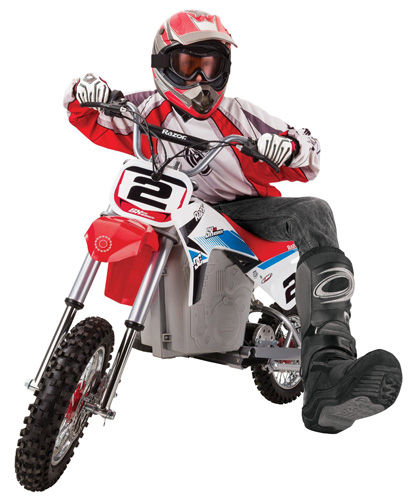 This bike is inspired by the motocross rider, Jeremy McGrath and has authentic graphics and a fairing design. It can carry riders at speeds as much as 15MPH and you child can enjoy continuous use of up to forty minutes. It has riser handlebars and dual suspension, plus a retractable kickstand, pneumatic knobby tires and dual disc brakes which are hand operated. It can support riders up to 175 lbs. and is recommended for ages 14 and up.Buy now from Amazon
1. MM-B80 Motor Bike by Monster Moto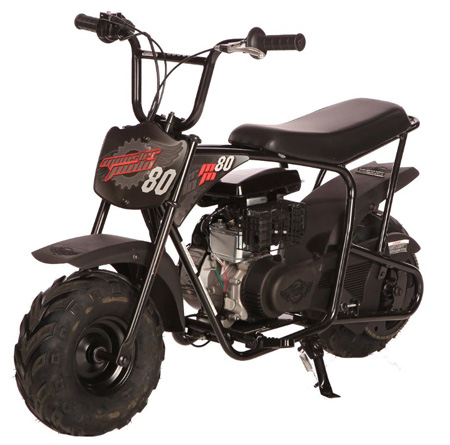 With top speeds of up to 23MPH, this bike will blow others out of the water. It has an automatic transmission and a rated engine power of 2.5 hp. It can hold a rider up to 150 lbs. and has super grip tires and adjustable handlebars. The fenders are made of polypropylene and are tough to stand up to wear and tear, and the bike is equipped with a large and comfortable seat.Buy now from Amazon