Keeping healthy and strong means including some kind of physical exercise into your regular routine each week. Many people love to use mountain bikes for this purpose, whether it is for professional use or just recreation and exercise. These bikes can be used for short or long trips, however finding just the right one can be confusing since there are so many different ones available on the market.
Mountain bikes are made for all kinds of terrain, so they can be ridden on a large variety of surfaces with confidence and without having to worry about unforeseen surprises. When you are searching for mountain bikes for sale, the more information you can find the more educated your final purchase decision will be, ensuring that you find just the right bike for you.
Below you'll find 10 of the best-selling mountain bikes which are available today to help you narrow your search.
10. Recoil 29er Mountain Bike by Diamondback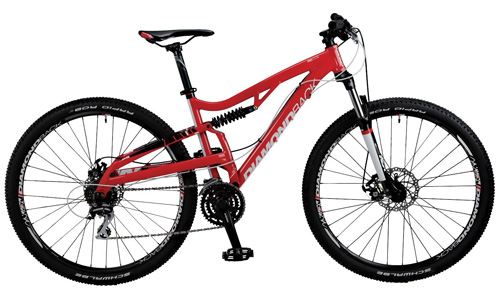 This bike is strongly built due to its frame made of 6061-T6 aluminum alloy, and the butted and formed tubing makes this bike lightweight. The SR Suntour XCTG suspension fork gives you 100mm of travel and four inch suspension in the rear will lessen the effects of rocks and roots found on the trail. You'll get a reliable and smooth ride with the front and rear derailleurs, 3×8 speed shifters and cassette work which all work together to give you responsive shifting through all 24 gears. The large 29 inch wheels keep going and are the newest innovation in mountain biking since they lower rolling resistance and the angle of attack to let you roll over obstacles like rocks and logs a lot faster and easier.
9. 26" Men's Granite Peak Mountain Bike by Roadmaster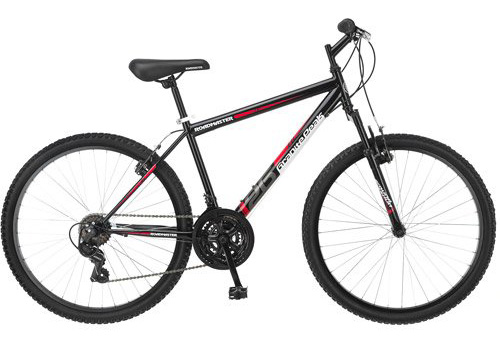 This is a great all-around mountain bike which goes well over unpaved, rugged paths. It is also perfect for going around your neighborhood, and it has a suspension for which smoothens the path ahead of you. Its tire tread grips the dirt or pavement, plus 18 speeds, the SRAM drive twist shifters to switch gears smoothly, with a mountain crank of three pieces that gives you a large gear range. Alloy rims, pull breaks linear, a padded seat and steel handlebars are additional features you'll find on this mountain bike
8. Protocol 1.0 Men's Dual-Suspension Mountain Bike by Schwinn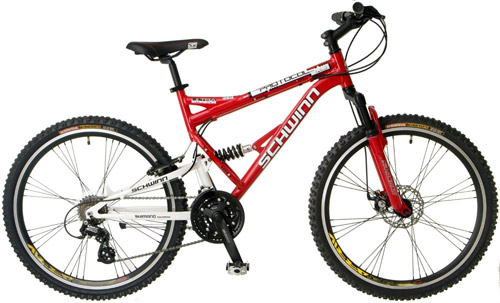 This dual-suspension men's mountain bike has a full-suspension frame and a forgiving rear steel triangle. The front disc brake lets you stop power where you need it the most, and the 24 speeds with Shimano EF-50 trigger shifters give you the control and incremental power you'll need for any kind of terrain. This bike also features a Suntour suspension fork and a MTV handlebar with Schwinn 4 bolt a-head stem.
7. Ladies Number 26335 Alpine Bike by Huffy Bicycle Company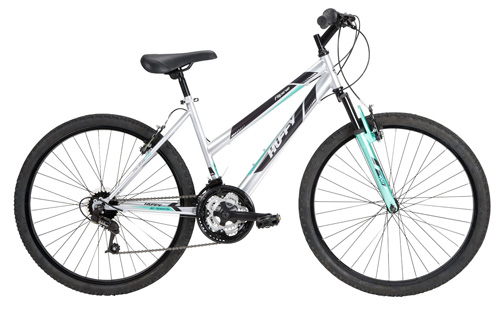 This bike features a hard, steel tail frame, steel pull brakes linear and 18 speed twist shifting. The 26 inch knobby tires and alloy black rims give this bike a great look and will help you to travel over all kinds of different terrains with ease. It also has a padded seat with stitched sides, giving you a more comfortable ride so you can enjoy your time on your bike longer.
6. 26" Granite Peak Men's Mountain Bike by Roadmaster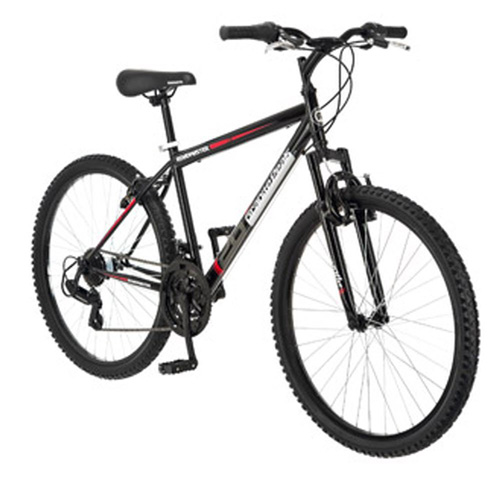 This mountain bike is great for those paths that are rugged and unpaved, or even riding around your neighborhood. It has 18 speeds and features the rear derailleur by Shimano, SRAM drive twist shifters for smooth gear changes and a mountain crank made of three pieces which gives you a large gear range. Alloy rims, pull brakes that are linear, a padded seat and steel handlebars are additional features you'll find on this great bike.
5. Women's Granite Peak Mountain Bike in Magenta by Roadmaster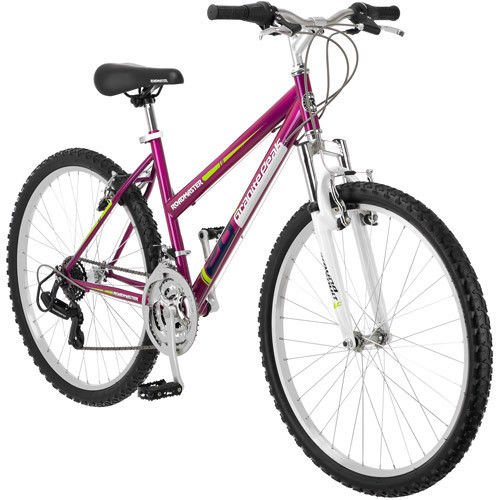 This is a great mountain bike which you can ride on all kinds of different terrains. Its steel mountain frame geometry allows for easy ride and the suspension fork smoothens out bumps and gives you more control. A Shimano rear derailleur assists the twist shifters in changing gears smoothly through 18 different speeds, and the 3 piece mountain crank gives you a big range of gears. Plus, you'll enjoy the added durability and control that the alloy wheels on this bike give you.
4. High Timber Mountain Bicycle by Schwinn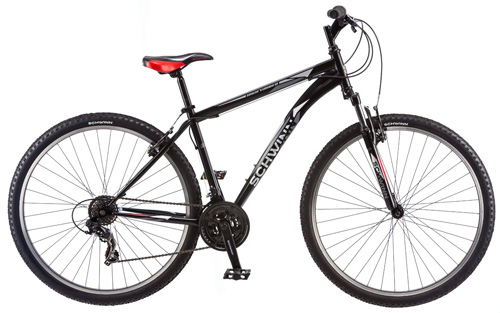 This 29" High Timber mountain bike from Schwinn features a frame made of lightweight aluminum, 21 speeds for all kinds of riding, a Schwinn suspension fork, and rims made of alloy. The pull brakes which are linear give you great braking power and this bike is made to be comfortable while allowing you to sit in an athletic riding position.
3. Impasse Dual Full Suspension Bicycle by Mongoose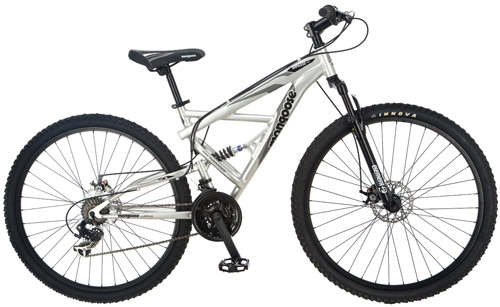 The Mongoose Impasse is the ultimate choice at a price that is affordable. It is equipped with a full-suspension frame built of aluminum, and this trail-capable bike gives you a controlled and smooth ride. It features Shimano gearing, an Element front for, SRAM twist shifters, plus rear and front disc brakes.
2. Women's Status 2.2 Full Suspension Bicycle by Mongoose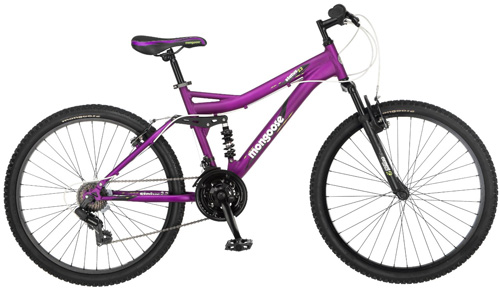 This women's bicycle from Mongoose features a lightweight frame made of aluminum and alloy rims. It has 21 different speeds so you can do all kinds of riding with it over all kinds of terrain. Get great braking power with the pull brakes that are linear, and sit comfortable in an athletic riding position with the design of this bike. It comes in an attractive matte purple color.
1. S29 Men's 29" Wheel Full Suspension Mountain Bike by Schwinn, Mountain Bikes for Sale
This full suspension bike of aluminum is great to take out on the bike trails. It is made with a Schwinn aluminum 29er suspension frame, plus an SR Suntour suspension for, giving you comfort and controlled riding. The SRAM 3.0 rear derailleur and SRAM 3.0 21 speed trigger shifting gives you the ultimate shifting for fast changes of gears. The rear and front dual disc brakes give you the best stopping power in any condition of riding, while the alloy rims roll over obstacles and take corners easier.