Kids love the action and thrill that comes with remote control cars. For most of them getting a remote control car will serve all their needs. It is important for a parent to know the kind of car that the child wants before purchase.
What to look for in remote control cars?
The car should be easy to monitor and also fun. It should not be hectic to steer and keep on the road. There are many varieties to choose from due to the different brands available. It is important to make a wise selection based on the strength, performance and battery life of the car and the remote used.
Why choose these remote control cars?
We know how important remote control cars are, not only to kids but also adults. It is important to buy one that is of high quality and one that will not waste your money. These ten products that we have listed for you come highly rated on the market. They are the go-to products.
Listed of the 10 Best Remote Control Car for Kids.
1. Cartoon R/C Race Car Radio Control by Liberty Imports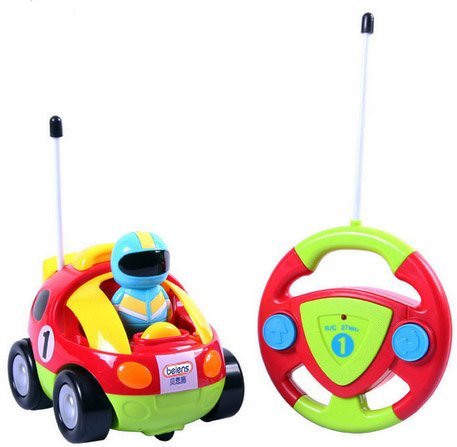 It is suitable for kids who love cars. The car gives them a good experience when it comes to learning how to control and steer a car. It has music, flashing headlights and honking sounds. The child will be able to forward and reverse the vehicle.
Pros
It is cheap
The car has been designed for children
Cons
The remote batteries are not included in the package.
It is not robust enough to handle some rough action.
2. Redcat Racing Electric Volcano EPX Truck with 2.4GHz Radio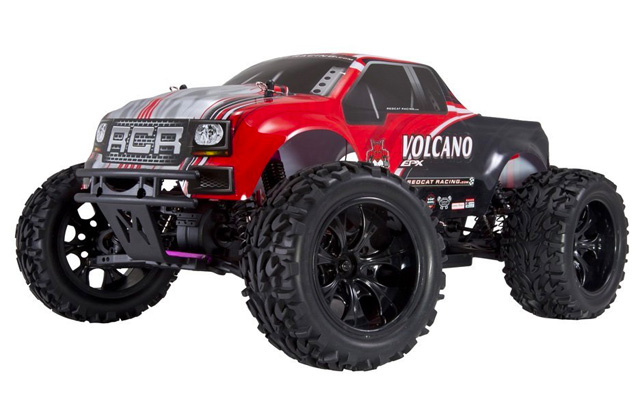 It comes with a remote control that allows the user to control the car over a 100-yard range. The electronic speed controller and servo are both fully waterproof. This limits disruption during the action. The four wheel drive truck makes sit able to handle dirt and mud. It comes fully assembled and ready to go.
Pros
It is fast and incredibly powerful
The 4WD characteristic gives it the ability to maneuver in different terrain
It has excellent ability to absorb shock
Cons
The batteries for the controller do not come with the package they should be bought separately
The price is high
3. Maisto R/C Rock Crawler Radio Control Vehicle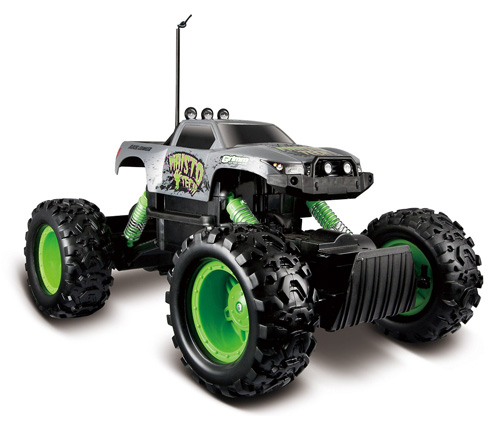 The user gets to enjoy the front and the rear suspension. The colors of these cars vary thus offering the user a chance to select based on their taste and preference. It is easy to control and steer making it ideal for use even by kids who are beginners. The remote control gives the total user control of the direction and function of the car.
Pros
The TPE tires guarantee the user ultra-grip when on the road.
The tri-channel transmitter gives access to three people
It has articulated suspensions and two motors.
Cons
The vehicle and the remote controller batteries are bought separately
4. SZJJX RC Cars Rock Off-Road Vehicle Crawler Truck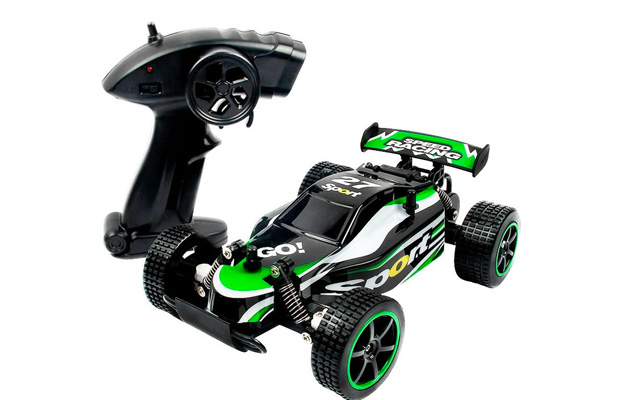 The materials used in its construction boosts its durability while at the same time making it robust and firm. It has a direction spinner that helps it to control the direction of the car when it is not in a straight line. The suspension system keeps the car protected from shock, and also its electronic components are kept in great shape.
Pros
It has a spinner direction
The car can go at high speed due to the horsepower motor used.
The car is waterproof
Cons
The remote control can only work as long as the car remains within a range of 50M.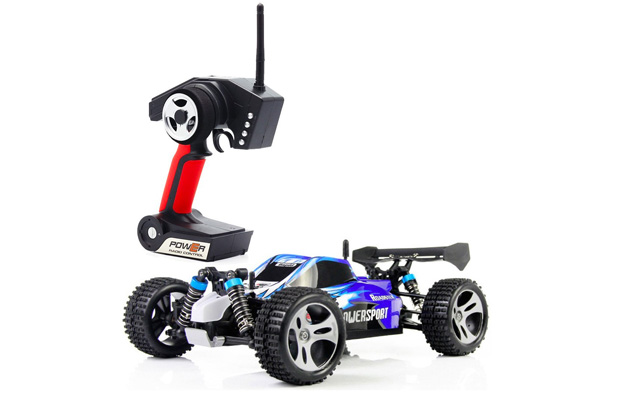 It has an excellent damping effect and a constant drive due to the independent suspension system with a helical spring on each wheel. The PVC shell is very sturdy, and the rubber wheels used help prevent slipperiness. The shock system prevents damage that results from vibration.
Pros
The parts can be disassembled and assembled easily
It has an independent shockproof system that makes it more durable.
The remote control provide a control range of up to 100M
Cons
The Li-ion battery powers it for only 20 minutes.
6. Maisto R/C Rock Crawler Extreme Radio Control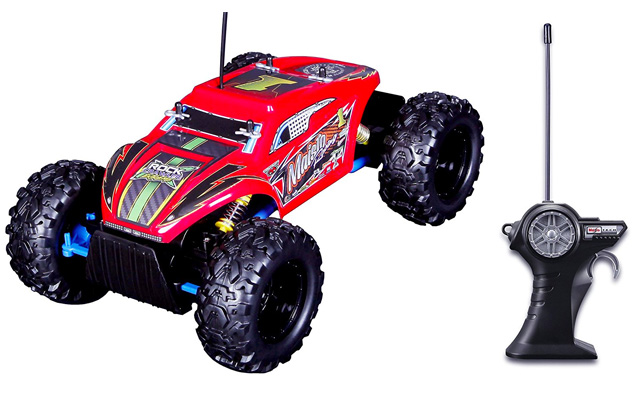 It features a front and rear suspension, and this makes it suitable for off-road action. The Tri-channel transmitter allows three people to control the device at the same time. The body is made to make it resistant to crash, corrosion, and roughness.
Pros
It comes with three powerful motors that help in driving and steering
The car comes at a budget-friendly price
The body is lightweight
Cons
Some customers have complained that it breaks easily.
7. SZJJX 1:10 Remote Control Car 4WD Shaft Drive Truck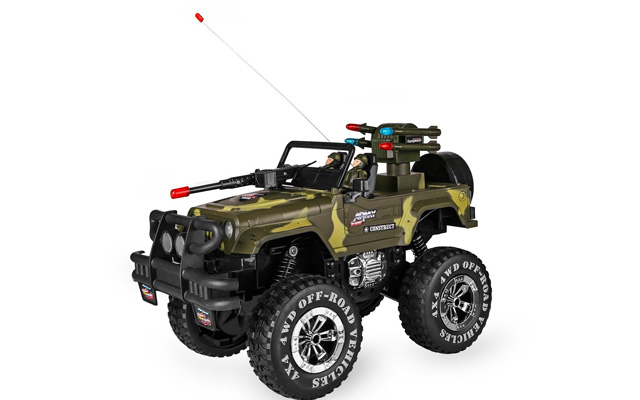 One noticeable feature is the super large tires that give it excellent off the road performance. From the look of it delivers the user wild and dominant performance. It has automatic lights and sound that boost its performance. The wheel suspension shock absorber eases the vibration.
Pros
Materials used to keep in in good condition protected from fade and shatter
The price is worth
Cons
It takes a long time to be charged as compared to other remote control cars.
8. Anki OVERDRIVE Nuke Expansion Car Toy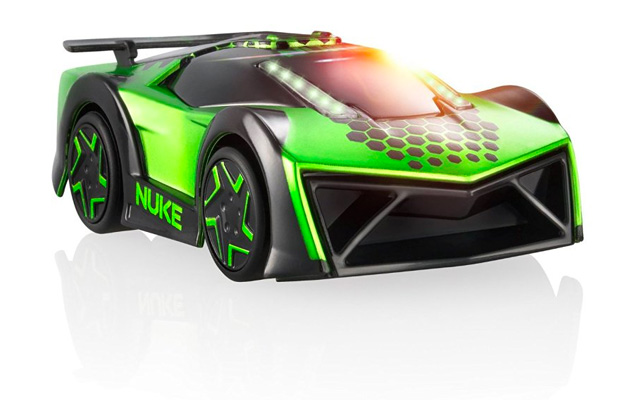 You can use your smartphone to control this device. It comes with exclusive weapons such as fuel bomb, decimator, and disintegrator. It has been referred to as the most intelligent battle racing system. It comes with a powerful artificial intelligence and deadly strategy.
Pros
Set up is easy
The user gets to enjoy unlimited tactical options
The customized weapons make it interesting to use the car.
The price will surprise you since it is cheap
Cons
You need a lot of practice to keep it on track
9. Novcolxya Model Cars RC Electric Racing Car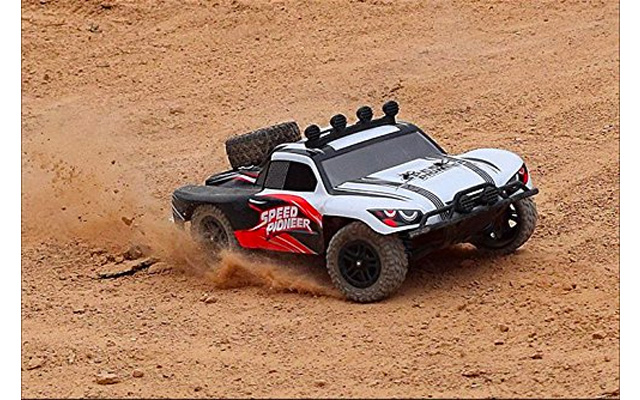 It comes with and independent suspension system. The body has a protective film that keeps in good condition for a long time. It does not have marks or scratches that can occur due to the outdoor experience.
Pros
It is affordable
It is safe for indoors and outdoors since it can handle different terrains
Its power and strength are guaranteed
The remote comes with a 3AA battery
Cons
There is no battery for the controller you have to buy it separately
10. SZJJX RC Cars Off-Road Rock Vehicle Crawler Truck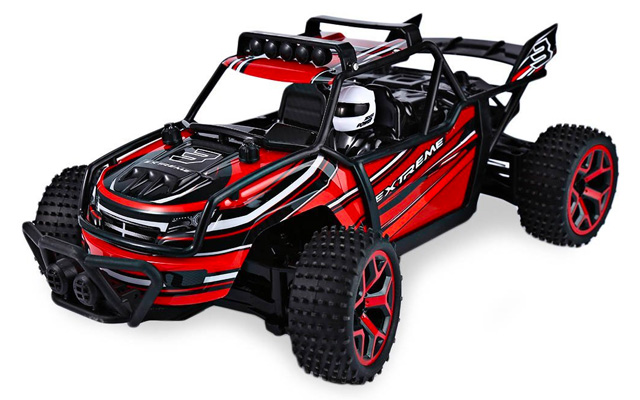 It is a four wheel drive which makes it more stable and faster. It has an off-road shockproof system. The materials used are of high quality making it classy and durable. It has rubber tires that are soft and elastic thus able to handle any terrain. It is easy to control when it comes to steer and speed.
Pros
It is a four wheel drive thus robust enough to handle different terrains
The stable structure keeps it protected from crash and abrasion
Cons
The battery for the remote controller should be bought separately.
We have researched on the best remote control cars that you can buy for your kids. Some of them are also perfect for adults since they are solidly constructed. They all come at affordable rates, and they will indeed deliver value to the user. Their features make them top rated on many review sites since they leave the customers satisfied and also give them a great experience.